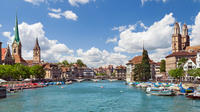 4-Hour Zurich City Tour with Private Guide. Spend a half day in Zurich with your private tour guide. Your walking tour will give you a complete overview of the spots of the inner city center. Your tourguide will show you the Zurich main station, Bahnhofstrasse, Paradeplatz, opera house, the lake shore, old town, Lindenhof, great minster church, Chagall designed church windows, university building, terraces of university and a boat ride on the Limmat river (Mai-October).
Categoría: Tours privados y personalizados.
Inicio en: Zurich, Switzerland.
Duración: 4 horas.
Precio: 188,36 euros.