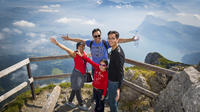 Mount Pilatus Photography Day Tour from Zürich. 
Experience in a Private Tour, from May to November, five different modes of transport and one amazing mountain experience all in one day. This is a day excursion taking first a boat trip, then a cogwheel railway, aerial cableway and last but not least a panorama gondola. At 2132 meters altitude (7000 feet's) enjoy stunning views over Lake Lucerne and the Swiss Alps. Designed by a local professional photographer and alpine guide, It is guaranteed you will have a lot of amazing photography opportunities during this journey. We will take you to some of the best locations in Mount Pilatus with possibilities of easy hikes and gorgeous photo opportunities. Wether you are an enthusiast photographer, a nature lover or an adventurous traveler, this alpine experience shouldn't be missed! All Camera skill levels are welcome (smart phones, compact cameras or professional DSLR)
Categoría: Tours culturales y temáticos.
Inicio en: Zurich, Switzerland.
Duración: 7 horas.
Precio: 769,72 euros.